5 Signs Your Need an Oil Change

Oil is such an important substance under the hood of your vehicle. It ensures your drives in the Harrisburg, Carlisle, and York areas are seamless, as it provides much-needed cooling and lubrication to your engine. Without it, your engine just wouldn't work the same.
We all know that changing the oil in your vehicle is a part of owning a Nissan. But, sometimes it just gets away from us. However, your vehicle will let you know when its time to schedule an appointment. Below, Faulkner Nissan Harrisburg has listed the five signs you need an oil change, so you can spot them clearly if they arise.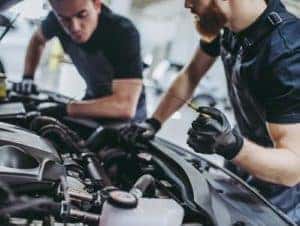 5 SIGNS IT'S TIME TO CHANGE YOUR OIL
1. DIRTY OIL
Oil works hard to keep your engine running smoothly. And like most things that are continually working, it can wear down over time. When oil is dirty, it will look dark and sludgy from picking up debris while cleaning your engine. It may even be filled with particles that can contaminate it.
To see if your engine oil is dirty, pop open your hood and remove the oil dipstick. Then, clean it with a lint-free rag, reinsert it, and take it back out again. While checking the color and consistency, inspect if the oil level reaches that "fill" mark, as well.
2. ENGINE SOUNDS
Usual noises from your vehicle are typically never a good thing, and one possible culprit could be unsuitable oil. Since oil creates a nice barrier between the metal workings, it's easy to hear sounds when it's not there to do its job.
These noises can sound like metal on metal, grinding, roaring, or rumbling under the hood. Make an appointment right away if you're hearing anything out of the norm.
3. EXHAUST SMOKE
Vapors can emit from your vehicle normally, especially when it's cold outside. But if you're seeing darker smoke coming out of your exhaust, it's time for an oil change.
This can be caused by an oil leak or your oil spilling onto different parts and burning. Since this can cause serious damage to your vehicle, as well as potential fires, get your vehicle to an authorized service center right away.
4. OIL SMELL
Are you smelling that distinct oil smell inside of your cabin? This is a big warning sign that could be fixed with a simple change. This odor is probably a result of a leak or your engine overheating due to lack of oil, so schedule an appointment for an oil change soon to prevent further issues.
5. OIL DASHBOARD LIGHT
If the check oil symbol is illuminated on your dash, it's a telltale sign that it's time to take your car in. Your vehicle has a smart diagnostic system inside, which can tell when you should head in for your next oil change.
Additionally, if you've ignored the light or are in dire need of fresh oil, your check engine light might even come on, as well.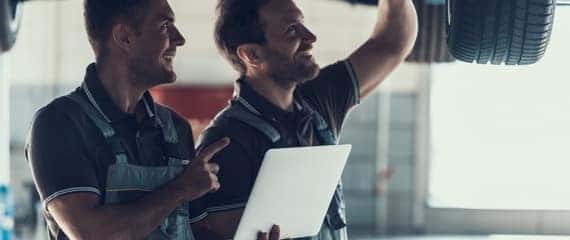 GET YOUR OIL CHANGED AT FAULKNER NISSAN HARRISBURG TODAY!
Is your car distributing any of the five signs you need an oil change? If so, contact our state-of-the-art service department and our professional team will take care of it for you. We proudly serve drivers in the Harrisburg, Carlisle, and York areas.