Community Spotlight: Back to Basic's

Are you looking to unleash your inner John Wayne? Perhaps you recently "Boot Scoot Boogied" right out of your favorite pair? Maybe you're simply trying to bring back the fringe leather jacket look? Whatever your need or motivation, Faulkner Nissan Harrisburg knows the place to go.
Since 1990, Back to Basic's Western Wear has been the general store for Billy the Kid and Annie Oakley types. A totally unique experience that's fun for the whole family, continue reading to see why we're excited to pick them for this month's community spotlight!
---
The Best Selection of Western Boots in Central PA
Set along a quiet stretch of Harrisburg Pike you'll find a pretty red barn with the words, "Western Wear & Boots" painted across the roof. A statue of a bucking stallion guards the doors which lead to a place that looks like nowhere else in Central Pennsylvania.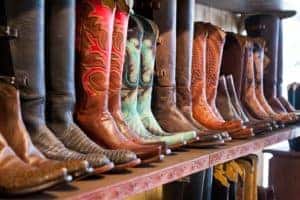 A warm leather aroma greets you the moment you mosey inside, followed by the overwhelming sight of Western gear arranged from floor to ceiling. The cathedral ceilings draw your eyes upward to the magnificent bison head on the wall, which oversees a menagerie of handmade leather apparel and accessories.
From the functional to the fabulous, Back to Basic's carries Western boots from all the top brands, including Lucchese, Stetson, Minnetonka, and more! Whether you're a greenhorn or a little long in the saddle, their friendly staff can fashion you with a pair you'll cherish for years.
Of course, no cowpokes' kit is complete without the proper headwear. From comfortable felt Stetsons to durable straw hats made from Mexican palms, you'll be able to block the blazing sun and look good doing it.
---
From Bolos to Chaps and Everything in Between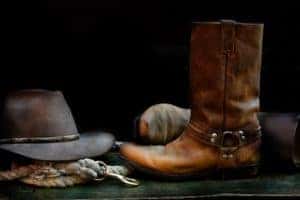 You don't need a horse to ride the open prairie. In fact, most customers who seek out Back to Basics prefer steel ponies over thoroughbreds. Able to accommodate both men and women, their line of apparel will keep you protected and looking your best.
Want a special gift you won't find in any regular stores? Check out their unique collection of Native American jewelry. Fully customized, the materials used to fashion each piece range from rare turquoise to sterling silver.
Saddle Up and Go!
Now that we've officially branded Back to Basic's as one of our favorite local businesses, we hope you'll check them out for yourself!
To stay up to date on their hours, special events, and more, make sure to "like" them on social media today!
---