---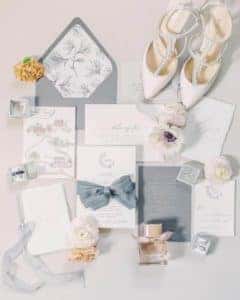 Have a special occasion coming up in the near future? Let Persnickety Invitation Studio design beautiful invitations for your big event! Persnickety is located in York's Olde Tollgate Village. Owned by Glen and Melissa Weiler, they turned the previous gift shop into an invitation company.
When you work with Melissa, you can rest assured you're in good hands! She received her associate degree in Graphic Design from Bradley Academy for the Visual Arts, York, in December 1994, and has won numerous awards for creativity and typesetting. Today, she's looked to as one of the area's experts on wedding invitation trends and etiquette!
Persnickety Invitation Studio is well known throughout Harrisburg, Carlisle, York, and Mechanicsburg. Continue reading our community spotlight for more information about this unique retail shop and studio!
Photo Gallery and Invitations
Persnickety works with couples to design one-of-a-kind custom invitations. Gain some inspiration for your wedding by visiting their website and checking out their photo gallery of invitations.
Persnickety is one of the region's only retailer of FAI Print® fine stationery and invitations. The invitations can be customized to fit your ideas.
You can also design a variety of invitations though their partnership with Carlson Craft. Whether you're celebrating a party, wedding, baby shower, or sending some holiday greetings, they can design and personalize invitations just for you.
Holiday Cards
Send out a holiday card to let friends and family know what you've been up to. You can also include a photo and personal message. Reach out to one of their designers for some help with spreading some holiday cheer.