Grinding Sounds When I Brake
We have all been there—you're driving the streets of the Harrisburg, Carlisle, or York area, and you start to hear a strange sound when you try to stop. What is this grinding sound when I brake? Is something wrong with my car?
It's great that you're asking these questions because most likely, this is your vehicle telling you something might not be working quite right. Faulkner Nissan Harrisburg has created this guide to help you figure out what that sound might be, and what steps you should take next.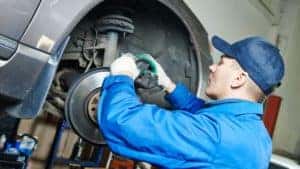 IS THIS SOUND DANGEROUS?
As one of the most critical safety features in vehicles, brakes work hard every time you drive. When there is a noise coming from them, it's time to schedule a service appointment. Not only could this noise mean something is malfunctioning, it could cost you more money later on if the issue is not resolved.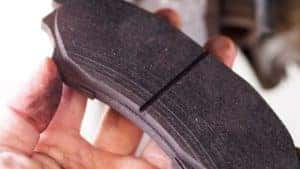 WORN BRAKE PADS
The most common reason your vehicle is exuding noises when coming to a stop has to do with your brake pads. These components lose some of their backings when used for too long, allowing metal to grind against metal.
If you see that your brake pads are beginning to wear down or have worn down quite a lot already, it's important to schedule an appointment with your authorized dealer. This will ensure your brakes are working properly and save you money in the long run.
THERE IS SOMETHING CAUGHT IN YOUR ROTOR
Though dirt and debris can become caught between the rotor and caliper in your vehicle, sometimes small objects can become lodged. Because this is a hard area to see, taking your car into your dealership's service center is a good idea. They can diagnose the issue and remove anything that may harm this aspect under the hood.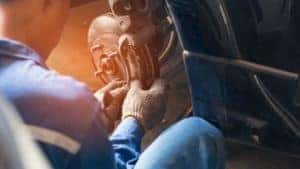 WORN-OUT ROTORS
Rotors are the part of your brakes that disperse heat, allowing your vehicle not to overheat. When they have worked for too long, they wear out and are less likely to do their job properly.
Replacing rotors will help keep you and your vehicle out of danger. To make sure that this is the cause of your grinding noise, make an appointment with your authorized maintenance center as soon as possible.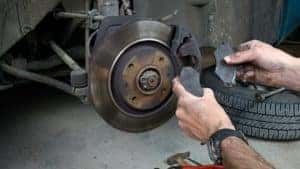 GET RID OF THAT GRINDING BRAKE NOISE AT FAULKNER NISSAN HARRISBURG
The best way to answer the question, "what's that grinding sound when I brake?" is to reach out to our authorized service center for help. Our dedicated team of certified technicians are trained to identify these exact issues and fix them accordingly.
To make an appointment at our maintenance center in the Harrisburg, Carlisle, or York areas, give us a call right away. We also offer a handy scheduling tool online to take advantage of. Our team is ready to assist in keeping you and everyone else on the road safe.