How Often Should You Change Your Oil

Changing your car's oil is essential to ensuring the engine is working efficiently and normally. But how often should you change your oil?
At Faulkner Nissan Harrisburg, we wanted to help our drivers in Harrisburg, Carlisle, York, and Mechanicsburg answer that question. Knowing the various factors that go into your oil's longevity, you'll have a better sense of how often to change your oil.
THE OIL TYPE IN YOUR VEHICLE
One way to get an idea of when you should change your oil is figuring out which type of oil is in your car. If your car uses conventional oil, it is generally recommended to change the oil every 3,000 to 5,000 miles. With synthetic oil, you can usually drive longer in between oil changes. It is advised to change the oil every 7,500 to 10,000 miles when using synthetic oil.
DAILY DRIVING HABITS
The lifespan of your engine's oil also depends on your personal driving conditions. There will be more wear to the oil if you tend to tow or haul a lot of weight or even have a car full of passengers a lot of the time.
Even your daily commuting plays a part in how often to change oil. You could be out on the open highway at higher speeds or navigating through streets in stop-and-go traffic on a daily basis. Either way, that will have an effect on determining just how often should you change you oil.
WHY DOES THE OIL IN MY CAR HAVE TO BE CHANGED?
Engine oil has a vital role in preserving the parts of your car's engine. It both lubricates and cools the components of the engine so it can perform at its peak.
With knowing how often to change oil, you will be able to proactively avoid any complicated damage to the engine and also keep your engine running smooth and powerful.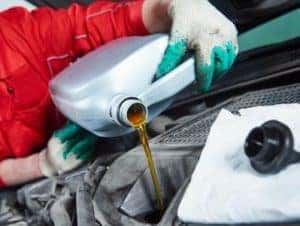 SIGNS IT IS TIME TO CHANGE YOUR OIL
When you weigh in all the factors that can help you decide when to be aware of your next oil change approaching, you can map out when each change should take place. To get an even better idea of when a change is needed, you will want to start regularly checking your oil's status. Making sure that the oil's level is sufficient can let you know if everything is working properly.
You'll also want to look out for any warning signs based on the smell and appearance of the oil. If there are any abnormal signs, it might be time to have your car brought in for service and a possible oil change.
Note that these signs can happen at any time, so it is important to routinely check your oil even outside the recommended time intervals for a change.
SCHEDULE AN OIL CHANGE
Understanding the answer to how often should you change your oil will help keep your engine in great condition.
So when you realize it is time to change your oil, you can schedule an appointment with us at Faulkner Nissan Harrisburg to have our technicians perform any services you need and quickly get you back on the roads of Harrisburg, Carlisle, York, and Mechanicsburg.