How To Read Tire Size

The lifespan a passenger vehicle's tires typically range between three to four years, meaning at some point you'll be required to schedule a partial or full replacement. When this moment arrives, one thing you'll need to know is how to read tire size.
At Faulkner Nissan Harrisburg, our service center works hard to provide you with both the resources and knowledge to keep your vehicle operating in its best condition, so if you're a driver near the Carlisle, York or Mechanicsburg areas, continue reading to learn how to perform this simple but important maintenance step.
How to Figure Out a Vehicle's Tire Size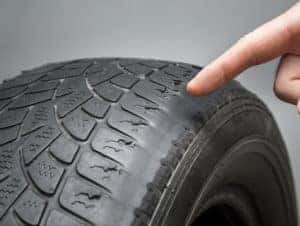 The average passenger tire ranges from 13 inches up to 22 inches depending on the size and type of vehicle. If you drive a heavy-duty work truck or special off-road SUV, your tires might be slightly larger and possess special treads to help you better grip the surface of the road.
Your vehicle's owner's manual can help you quickly determine what size tire best suits your vehicle and provide additional information on what types of tires best suit its abilities.
The other way to read tire size is by going off the special nine-digit code found on each tire's sidewall.
How Do I Decipher a Tire Size Code?
As we previously mentioned, on the outer sidewall of a tire you'll find a nine-digit alpha-numeric code which provides just about everything you need to give our team the day of your service appointment.
In most cases, this code will either begin with the letter "P" for Passenger vehicle or "LT" for Light Truck. The rest of the code reads as follows:
Width. This three-digit number tells you the width of the tire in millimeters from sidewall to sidewall.
Aspect Ratio. This number shows you how big your tire's sidewall is from the tire's cross-section to its width. This two-digit number is usually preceded by a slash mark.
Construction. This letter informs you how the tire treads are laid. For most passenger vehicles, you'll find the letter "R," which stands for "radial".
Rim Diameter. The rim or "wheel" is the large metal disc that is fitted to the tire. This two-digit number tells you the size of the rim the tire can properly fit.
Load Index/Speed Rating. These final three digits show the maximum weight the tire can safely carry along with the max speed it can travel.
For everyday purposes, the most important bits of information you'll need to gain from the tire code is the tire type and the wheel diameter. If you're interested in changing how the treads are laid or in upgrading to all-season or performance tires, our service professionals can provide the right guidance to help you make a safe and effective choice.
Schedule Tire Service at Faulkner Nissan Harrisburg
If you're a driver living in the Harrisburg region in need of a partial or full tire replacement, head over to our state-of-the-art service center or go online to schedule an appointment that best fits your busy schedule.