Nissan Kicks Dashboard Lights

Nissan is well-known for producing some of the safest and most dependable vehicles on the roads around Carlisle, York, and Mechanicsburg. This includes the Nissan Kicks, which earned an IIHS 2019 Top Safety Pick.
One of the main ways your Kicks helps keep you safe is by communicating important information through a complex system of dashboard lights. While most lights are innocuous, others are designed to alert you to potentially serious mechanical issues. Understanding what each light means is beneficial to guaranteeing not just your crossover's performance, but also your personal safety.
Continue reading to learn a few of the most common Nissan Kicks dashboard lights before scheduling your next checkup at Faulkner Nissan Harrisburg today.
What Do the Different Dashboard Light Colors Mean?

When first starting your engine, you might notice a collection of dashboard lights flash across your instrument panel before quickly disappearing. This is a normal function and is no need for alarm. If a light remains lit after a few seconds, make a point to determine what it's communicating before you pull out of the driveway
Think of a dashboard light like a traffic light. Green-colored lights indicate when a normal vehicle function is in use, like a turn signal or your high beams. Yellow-colored lights generally appear indicating a serious, but non-emergency issue, while red-colored lights show up when a serious issue or malfunction is detected.
What Are Some Common Yellow Dashboard Lights?
As we mentioned, yellow lights appear when a serious issue is detected somewhere inside your vehicle. While it might not need the immediate attention from a service tech, you should never delay getting it checked out as it can potentially lead to greater issues. A few common yellow lights include:
Malfunction Indicator Light. AKA the "check engine light" looks like the profile of an engine and often appears when an issue is detected within your vehicle's emissions system.
Low Tire Pressure Light. This symbol looks like an exclamation point within a horseshoe and appears when at least one of your tires' air pressure dips below a safe level.
Anti-Lock Braking System Light. If you see the letters "ABS" within a circle, it means your anti-lock braking system has an issue. While still safe to drive, avoid driving over wet or slick roadways until it can be looked at by a professional.
​What Are Some Common Red Dashboard Lights?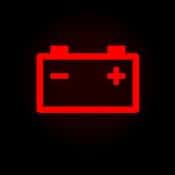 If while driving down the road you notice a red warning light appear, immediately find a safe place to park your Nissan Kicks and turn off the engine. Failing to do so can often result in further damage or in a worst-case scenario—an accident.
Assess the situation to determine whether it's safe to continue driving before immediately heading to our service center. A few warning lights you may encounter include:
Master Warning Light. This symbol appears as an exclamation point within a triangle and appears when a serious issue is detected within your engine system.
Charge Warning Light. This symbol appears as the top of a battery and appears when a charging issue is detected. Do not turn off the engine until you're in a safe location to avoid becoming stranded.
Engine Oil Pressure Warning Light. This symbol appears as a dripping oil can and appears when your engine oil dips below a safe level.
Schedule Service for Your Nissan Kicks Today!
We hope this dashboard light guide provides you with better insight into the crossover's important functions and tools. While this guide is just the tip of the iceberg, we encourage you to review your vehicle's owner's manual for a comprehensive list of lights and symbols.
If you have any questions or need professional help, visit Faulkner Nissan Harrisburg where our team can quickly identify any issue and have you back on the roads around Harrisburg in no time.