Nissan Rogue Safety Review

Keeping your family safe while cruising the streets of Harrisburg, Carlisle, and York is a mutual goal of yours and the Nissan Rogue. That's why the 2020 Nissan Rogue comes standard with several safety features.
To help the drivers of Mechanicsburg and beyond, we here at Faulkner Nissan Harrisburg have put together this Nissan Rogue safety review to point out some of the key standard features of this crossover SUV.
Ready to learn more? Keep reading!
Help with Stopping in a Pinch

Using a series of cameras mounted to your Nissan Rogue, the Automatic Emergency Braking with Pedestrian Detection system constantly monitors your distance from the vehicle in front of you. If the distance becomes too small, it will alert you to slow down.
If there is no reaction, the system can step in by automatically applying pressure to the brakes with the intention of preventing or lessening the severity of impact.
Should a pedestrian cross your path in a crosswalk, the automatic braking can be applied if you don't react quick enough.
Staying on Track: Nissan Rogue Safety Features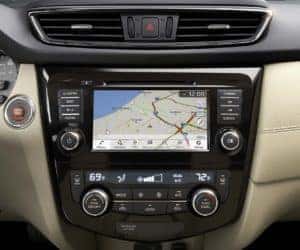 A pair of cameras mounted to your Nissan Rogue can detect the painted markings of your lane. Monitoring these lines, your Nissan Rogue can alert you if you're starting to stray from your lane without using a turn signal.
Should you not react to this alert, the Nissan Rogue can automatically apply gentle brake pressure to help you get back in your lane. With many distractions both in and out of your Rogue, you can feel more confident behind the wheel knowing the Intelligent Lane Intervention system can help intervene if need be.
Eyes in the Back of Your Head
In addition to the front mounted cameras, there is also a series of cameras at the rear of your Nissan Rogue. Using these cameras, the Blind Spot Warning system constantly monitors behind and to the side of your Rogue.
If the system detects an object within your blind spot, you'll be alerted until it is safe to change lanes. Having the Blind Spot Warning system on your side, you may find it easier than ever to safely change lanes.
Parking Lot Warrior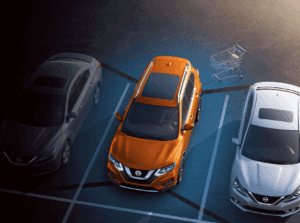 Doesn't it seem that when backing out of a spot in a parking lot your head is constantly on a swivel to check for pedestrians, other vehicles, and runaway shopping carts? Well, with the Rear Cross Traffic Alert feature of the Nissan Safety Shield® 360, your neck can finally relax.
When backing out of a spot, the Rear Cross Traffic Alert system works as a second pair of eyes to monitor for objects approaching from your side. If anything is detected, you'll be alerted so you can stop and resume backing out when it's safe.
Night Vision Activate
Tackle the night with the High Beam Assist feature. When the lights are in the ON position, the high beams can be enabled when low light is detected. If high beams are no longer needed, like when another vehicle is approaching, the high beams will automatically flip to low beams, only to switch back to high beams when needed.
With this feature, you'll be able to keep your attention on the road ahead instead of manually flipping back and forth from high beam to low beam throughout the duration of your drive.
Check out the Nissan Rogue Safety Features for Yourself

We here at Faulkner Nissan Harrisburg believe in not only providing the drivers of Harrisburg, Carlisle, York, and Mechanicsburg with vehicles that have exceptional safety features like the 2020 Rogue, but also with offering as much information as possible. That's why we created this Nissan Rogue safety review.
While we've supplied an in-depth look at these features, this safety review only scratches the surface of all the standard and optional safety features available with the Nissan Rogue.
To experience these safety features for yourself, stop in for a test drive today!