Oil Change Near Me


If you want your Nissan to last for a long time, it's essential to get routine maintenance done near Harrisburg, Carlisle, York, or Mechanicsburg. One type of maintenance work that's needed is an oil change.
Below, we'll tell you why oil changes are so important. If you're looking to get an oil change near you soon, then don't hesitate to contact us at Faulkner Nissan Harrisburg.
How Often Should You Change Your Oil?
Synthetic vs. Conventional Oil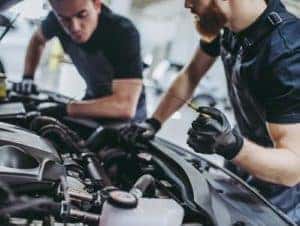 WHY OIL CHANGES ARE IMPORTANT 
It's important to get regular oil changes to help keep the engine healthy. More specifically, clean engine oil will do the following:
• Keep components lubricated and cool: An engine is comprised of many moving parts that move at very high speeds. As these parts move, they create friction and will start to heat up. The oil is used to keep the parts lubricated and cool, to prevent the engine from overheating.
• Remove debris: If dirt and debris get inside the engine, it could decrease its lifespan. That's why it's important to get routine oil and filter changes to help remove those particles.
• Improve gas mileage: When an engine isn't properly lubricated, it can result in increased fuel consumption. With regular oil changes, you can actually save up to a gallon of gas each year.
WHEN TO GET AN OIL CHANGE NEAR ME
It used to be that your vehicle needed an oil change every 3,000 miles. However, that's mainly the case if you often experience severe driving. This could mean anything from driving on dusty or muddy roads to making mostly short trips of five miles or less.
Today, most vehicles can wait 5,000 or 7,500 miles before needing an oil change. In fact, if your car uses synthetic oil, you could wait 10,000 miles before getting an oil change.
If you're not sure when your car last had an oil change, there are some warning signs you could look out for. One of them is a change in color and consistency. When oil is clean, it's transparent and honey brown in color. As it picks up dirt and debris over time, it'll become black and gritty.
Another warning sign is a loud knocking noise that's coming from the engine. As we mentioned before, oil is used to lubricate the engine's moving parts. If the oil is dirty, it can't do its job. The result is the parts grinding against each other, which will cause you to hear that knocking sound.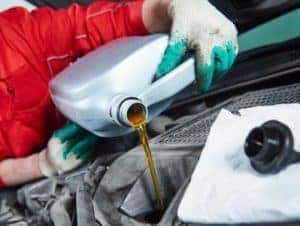 SCHEDULE AN OIL CHANGE NEAR ME TODAY
As you can see, regular oil changes are crucial to the health of your Nissan. So, if you need one near Harrisburg, Carlisle, York, or Mechanicsburg, don't wait. Schedule service at Faulkner Nissan Harrisburg today!