Synthetic vs Conventional Oil


When it comes to making sure that your car is running efficiently and safely, using the right engine oil is one of the most important things that you can do. That's why we've created this guide to synthetic vs. conventional oil for our customers around Harrisburg, Carlisle, York, and Mechanicsburg, Pennsylvania.
Feel free to get in touch with us at Faulkner Nissan Harrisburg with questions about anything you read.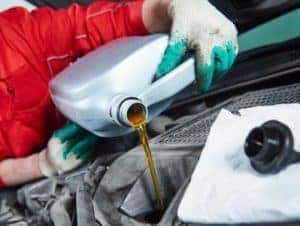 HOW DOES ENGINE OIL WORK?
Your car's engine is comprised of thousands upon thousands of moving parts that have to work in tandem for you to have half a chance of even getting out of your driveway. All of that motion means friction, and, without proper lubrication, all of that friction would mean serious engine problems. Both synthetic and conventional engine oils are that lubrication. Now, let's dive into some of the differences between them.
SYNTHETIC OIL VS CONVENTIONAL OIL
Actually, they both originate from the same source. At some point, both synthetic and conventional oils were organic compounds such as petroleum-based hydrocarbons. Though their similarities end there.
Unlike conventional oil, synthetic oil is refined, distilled, and broken down into a purer molecule. This process gets rid of all of the impurities that could otherwise impede a modern car engine. The result is better protection for your engine, and thus better performance, safety, and efficiency for your car. Additionally, synthetic oils usually come with antiwear additives and anti-clumping dispersants.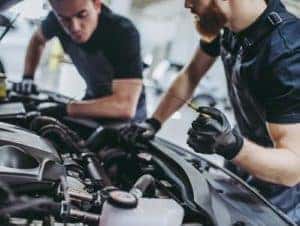 WHICH ONE SHOULD I PUT IN MY CAR?
Why is synthetic motor oil typically better for the advanced engines found in modern vehicles? Here's why.
 It's cleaner. Conventional engine oil typically collects a bunch of sludgy deposits as it does its job of lubricating your engine. Synthetic oil was designed as a solution to this type of problem.
 It's long-lasting. Synthetic oil also won't break down as quickly as conventional oil. Some brands require a change every 15,000 miles, as opposed to every 3,000-5,000 miles for regular motor oil.
 It's protective. Last, but certainly not least, synthetic oil often works better in higher temps. Paradoxically, it also flows better in lower temperatures. So, if you're the type of driver who puts your vehicle through more extreme usage (especially during winter or summer months), then you might want to consider opting for a synthetic oil. Contact us if you have any more questions!
Of course, the only drawback to synthetic engine oil is that it's a bit more expensive than conventional oil.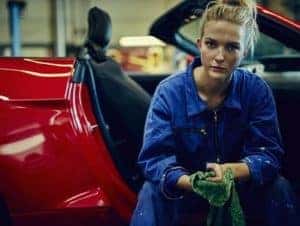 SCHEDULE AN OIL CHANGE APPOINTMENT NOW AT FAULKNER NISSAN HARRISBURG
If you couldn't already tell, our expert automotive technicians love synthetic engine oil. However, even if you prefer conventional motor oil, don't worry! We can help you with any and all of your oil change needs.
You can schedule a service appointment at Faulkner Nissan Harrisburg by either calling us on the phone, chatting with us on our website, or stopping by from Mechanicsburg, York, Carlisle, or Harrisburg, PA.