Is a used Nissan Altima for sale near Hershey, PA, next on your shopping list? We here at Faulkner Nissan Harrisburg would like to help you decide whether this is the right sedan for you. The following review will delve into what it has to offer when it comes to things like safety, convenience, and comfort.
Take a moment to see for yourself what the Altima is all about. Don't forget to email, call, or swing by with any questions you might have along the way. We'll be happy to get those answered for you.
---
Reassuring Safety Features for Top-Notch Support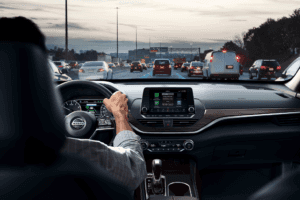 If you find yourself on the road for long stretches at a time, the Lane Departure Warning is one feature that's likely to have your attention. This available driver aid lets you know when you've started to drift out of your lane unintentionally to allow you to make the necessary adjustments to get back to where you want to be.
The Altima also helps when it comes to your overall awareness. A key example of this fact would be the available Blind Spot Warning that tells you when a vehicle has entered one of your blind spot zones. This action makes it a lot easier for you to change lanes with increased confidence.
Used Nissan Altima for Sale Hershey PA: A Look at Convenience
In order to ensure safe and efficient driving throughout your travels, it's important that your tires have the appropriate air pressure. That's where the Tire Pressure Monitoring System comes into play. This available feature includes individual tire pressure display and easy-fill tire alert so you can make sure your tires are good to go.
The Remote Engine Start System comes standard in the Altima. This convenient item helps you make sure the cabin is warmed up and ready for action, no matter what time of day you have to get behind the wheel.
---
A Comfortable Cabin from Front to Back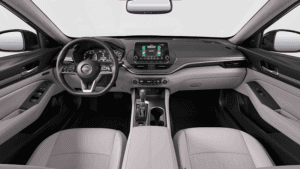 It doesn't matter where your passengers put themselves inside the Nissan Altima, they can count on getting a comfortable ride whether you're making a short trip or driving all the way across town.
This is made clear by the fact that there are 39.2 inches of headroom, 58.2 inches of shoulder room, 54.7 inches of hip room, and 43.8 inches of legroom in the front and 36.9 inches of headroom, 57.1 inches of shoulder room, 54.5 inches of hip room, and 35.2 inches of legroom in the back.
Take the Used Nissan Altima for Sale Hershey PA for a Spin Today
As you can see from the information detailed for you above, the used Nissan Altima is one impressive motor vehicle. If this is exactly the sort of car you can picture getting you from Point A to Point B and beyond, we'll be happy to help you get an even closer look.
When it's convenient for you, contact Faulkner Nissan Harrisburg so we can get you all set up for a test drive.
---