Warning Signs of Tire Failure

Tires a very important safety component in your vehicle, however, they are often forgotten about until it's too late. As the only part of your vehicle that has a constant contact with the ground, they need special care to ensure your drives are safe. How do you know your tires are ready for the Harrisburg, Carlisle, and York streets?
To help you with making sure your travels are effect and secure, Faulkner Nissan Harrisburg is here. Below, you will find some early warning signs of tire failure that you should keep an eye out for. If you're noticing any of the below symptoms, make sure to get your tires inspected right away or schedule a service appointment!
COMMON SIGNS OF TIRE FAILURE
SIDEWALL DAMAGE
One of the easiest ways to see if your tires aren't doing well is by checking them for damage. If you're seeing cracking and cuts on the sides of your wheels, it's probably time for a new set. Blisters and bulges might also appear, which indicate that point of the tire is extremely weak.
WORN-OUT TREADING
Most wheels come with a built-in indicator that will let you know when the treading is your tires is getting too low. Check for bars that are found across your treading. These will show you if your tires are becoming bald and it's time for a replacement.
UNEVEN WEAR
Haven't gotten your tires rotated in some time? Then it'll show by creating uneven wear between the front and back set. However, uneven wearing can also be caused by improper inflation, your wheels being misaligned, and suspension issues. Either way, take your vehicle to an authorized service center to see if you can correct the issue or need some new wheels.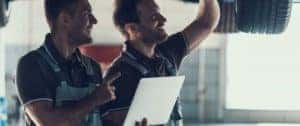 EXPOSED TIRE WIRES
When your tires lose of their traction and become bald, you may be able to see wires or chords peeking through. This is a pretty serious sign that you need to replace your tires as soon as possible. Seeing exposed inner workings of tires means they might stop working sooner than you think, leaving you in a serious situation.
VEHICLE VIBRATION
Though a vibrating vehicle can be caused by everything from dirt roads to brake issues, failing tires could be the culprit. If the vibrating is happening continually, it's time to have them checked out by a professional.
EASILY PREVENT TIRE FAILURE
Though the above signs of failing tires can be scary, there are ways you prevent them from happening. Firstly, inspecting them on a regular basis is going to provide you with a lot of information. This way, you'll be able to see when they might need a tire rotation or if they're looking tread.
Keeping your tire inflated to the proper PSI will also help. This not only lessens the chance of a blowout, it increases your car's efficiency, allowing your performance to soar. Finally, rotating your tires every time you schedule an oil change will keep them in tip-top condition.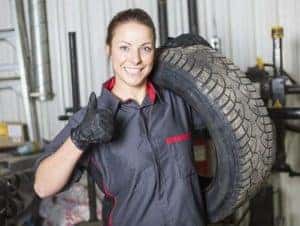 GET YOUR TIRES SERVICED AT FAULKNER NISSAN HARRISBURG
Need some help assessing the quality of your tires? Maybe you're in need of a full upgrade? No matter what your tire issue may be, the professionals in our service can help. They'll check out your wheels and get you back on the streets of Harrisburg, Carlisle, and York in no time.